Aviation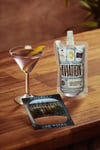 Are we actually going to get a summer this year? August in London has been particularly grim - wet, grey and a little bit miserable. If you feel like you need a dose of escapism, consider the Aviation - all the glamour of air travel with no stress, PCR tests or queues.
Made with Gin, Maraschino, fresh Lemon juice and Creme de Violette - the Aviation is a tangy, aromatic take on a gin sour. Think of it like a little holiday in a glass.
Each order costs a tenner, and all the profits - £6.02 per sale - go direct to Hackney Food Bank, so you can feel good about your air miles for once.
As well as the Aviation - a punchy 250ml pouch, enough for two strong drinks - you also get a one-off print from artist Louis Morlet dreaming of his next big trip to Berlin.